At Boucher Levesque Maltais Dental Centre in Dieppe, our dentists provide cosmetic dental services designed to improve the overall appearance of your teeth and gums.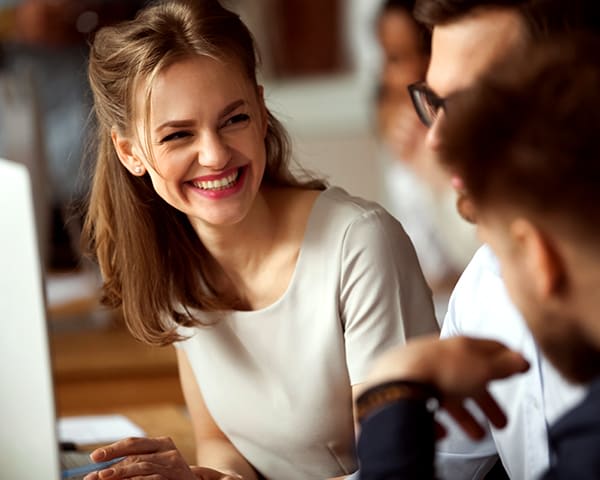 What is Cosmetic Dental Care?
The goal of cosmetic dental treatments is to improve the appearance of your teeth and gums.
These treatments can help improve the color and symmetry of your teeth if they are discolored, damaged, broken, misaligned, or even spaced.
For many patients, these treatments help to beautify their smile in a lasting way and improve their self-confidence.
Teeth Whitening
Professional teeth whitening is an effective way to safely remove stains and lighten the color of your teeth. The peroxide-based bleaches used in the procedure lighten the color of the teeth. We offer effective in-clinic or at-home teeth whitening options for a radiant smile.
Veneers & Lumineers
Veneers are thin porcelain films custom-made to restore the appearance of teeth and are used on improperly positioned, misaligned, stained or discolored teeth. Lumineers® are ultra-thin veneers that can often be placed with little to no removal of the natural tooth structure.
Complete dental restoration
For patients who wish to improve the appearance and function of their smile, a full-mouth restoration may be an ideal option. Our dentists at Boucher Levesque Maltais Dental Centre can create a personalized treatment plan in order to perform all the necessary procedures, in a minimum of appointments.
Dental Bonding
Dental bonding is a cosmetic treatment in which your dentist uses a material of natural color, called composite resin. This material is applied to the decayed, discolored, or damaged tooth to give a more natural and even smile. Usually, one visit is enough to bond multiple teeth.
Prosthetic Dental Implants
You can restore the look and function of your smile with dental implants that replace an entire arch of missing teeth. In addition to offering many benefits for oral health, prosthetic dental implants are a permanent solution to replace missing teeth.