At Boucher Levesque Maltais Dental Centre in Dieppe, we offer a full range of dental restoration services, including fillings, dental crowns and bridges, and gum or TMJ treatment.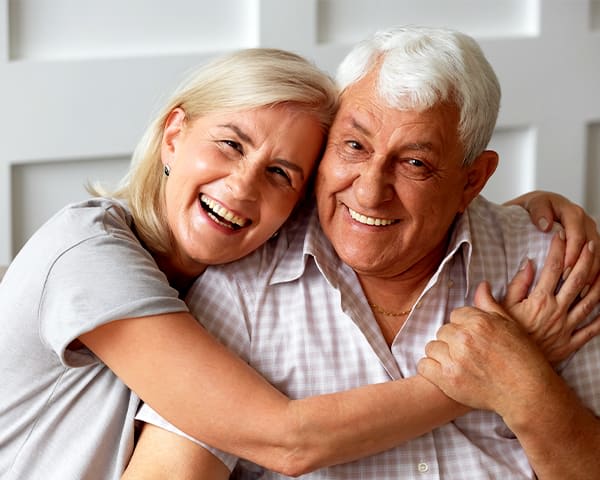 What is Restorative Dental Care?
Restorative dental care helps restore the function and appearance of your smile.
By restoring damaged teeth or replacing missing teeth, our dentists can help you improve your oral health.
Depending on your problem, the dentists at Boucher Levesque Maltais Dental Centre will recommend a treatment plan.
Dental Crowns
Porcelain or ceramic crowns are custom made and placed on top of the teeth. Crowns are used to fix bridges, cover dental implants, or repair a damaged tooth. They can also help restore a discolored or stained tooth to its natural appearance.
Dental Bridges
Bridges are natural-looking prosthetic devices that are attached to existing teeth or dental implants on either side of a space, replacing a section of missing teeth. Bridges are barely noticeable and can restore the natural contour of the teeth and the occlusion between the upper and lower teeth.
Dental Fillings
At Boucher Levesque Maltais Dental Centre, we use natural-colored composite fillings to repair a decayed or damaged tooth by restoring it to its normal function and shape. These fillings help restore proper chewing function and can be used on both front and back teeth.
Complete & Partial Dentures
Dentures are prosthetic devices designed to replace one or more teeth (partial dentures) or an entire jaw of missing teeth (full dentures). Dentures allow patients to maintain their facial structure and to speak and eat properly.
Complete dental restoration
For patients who wish to improve the appearance and function of their smile, a full-mouth restoration may be an ideal option. Our dentists at Boucher Levesque Maltais Dental Centre can create a personalized treatment plan in order to perform all the necessary procedures, in a minimum of appointments.
Inlays
Inlays are natural-looking porcelain fillings that are used to repair cavities when the damage is too great for a dental filling. They are custom-made in a dental laboratory and sealed to your tooth permanently by your dentist.
Root Canals
A root canal is a dental procedure to remove infected tissue from a tooth. By removing cavities and bacteria, your dentist can help stop the spread of infection and prevent tooth extraction. A treated and restored tooth can last a lifetime, provided proper hygiene measures are taken.
Gum Treatment
Gum disease is an infection of the tissues in the mouth including the gums, alveolar bone, cementum, and periodontal ligament. If the disease is detected in the early stages, preventative treatment will be recommended by your dentist.
TMJ Disorder Treatment
The temporomandibular joint (TMJ) connects the lower jaw with the bone of the skull. Disorders of this joint can cause problems and pain in the jaw and facial muscles. Your dentist can develop a personalized treatment plan.