At Boucher Levesque Maltais Dental Centre, the technology we use allows us to provide our patients with effective dental care.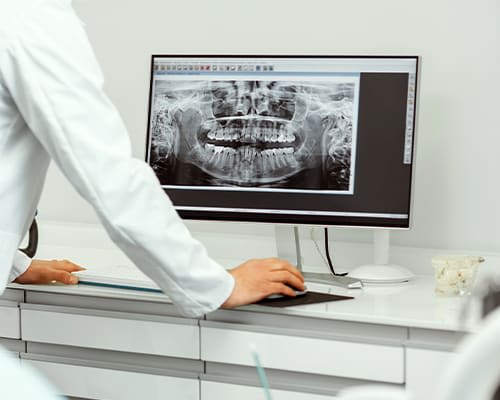 Technologies at Our Dental Clinic
At Boucher Levesque Maltais Dental Centre, the technology we use helps improve treatment planning and make consultations more efficient.
The digital x-rays and scans displayed on the monitors of our treatment rooms allow you to show you any problem related to your oral health and to guide you in your treatment plan.
We aim to provide our patients with care that meets their expectations and to ensure that they are well informed about their oral health.
Digital X-Rays
Digital x-rays have an electronic sensor that records and stores highly detailed digital images of teeth and gums, as well as other oral structures. X-ray results appear almost instantly on the screen and are recorded. This technique allows your dentist to examine parts of the mouth that are not visible to the naked eye.
Panoramic X-Rays
Panoramic x-rays allow your dentist to capture a complete image of your mouth including teeth, upper and lower jaws, temporomandibular joints (TMJ), and sinus and nasal structures. These x-rays are frequently used to help plan treatments such as dentures, braces, extractions, or dental implants.
Soft Tissue Dental Lasers
In dentistry, lasers (very focused light beams) are used for various treatments associated with the soft tissues inside the mouth. Less invasive, the laser helps reduce pain and surgical interventions. At Boucher Levesque Maltais Dental Centre, our dentists use lasers in many procedures to remove, for example, devitalized or infected tissue in periodontal pockets.
iTero Intraoral Scanner
Digital dental impression offers many advantages. The scanner uses an intraoral system that captures a digital image of your teeth in just a few minutes. This device allows your dentist to obtain very precise data to create digital replicas of the tissues in your mouth. You will be able to see the results of an Invisalign treatment on the screen, for example.